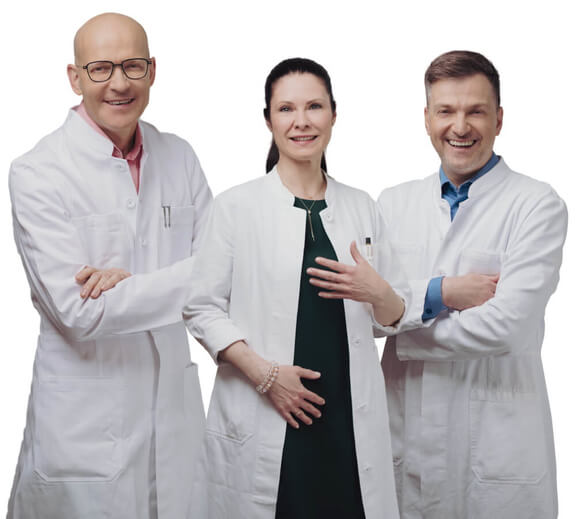 Your Experts on Breast augmentation / breast enlargement
Dr. med. H. M. Pult
Dr. med. A. Reutemann
Dr. med. S. Zimmermann
Breast augmentation with breast implants or a fat transplant is an excellent option for women looking to add volume to breasts they find too small, helping to give them a whole new outlook on life.
Preparing for surgery
Prior to operating, we discuss with the patient whether her wishes and ideas are possible or medically advisable. We place enormous value in the fact that the result should tie in with the rest of the body's proportions harmoniously.
High-quality, safe implants
We only use the latest generation of the highest quality implants with ISO certification and the CE quality seal. These implants are available in a wide range of sizes, shapes and finishes. With this generation of implants it's no longer necessary to replace them later on down the line.
To enable our patients to gain a better idea of the outcome of their breast augmentation, we offer special sample bras and implants so that they can test out every size on their own body prior to the operation.
Procedure for breast augmentation with implants
The procedure is done under general anesthesia and usually takes one to two hours.
The silicone implants can be placed in the breast using various incision methods. Placement depends on the state of the breast, the patient's personal preferences and medical feasibility. Implants can be placed either above or below the pectoral muscle (see figure). In certain cases, they may also be placed underneath the muscle fascia. The ability to breastfeed and breast sensitivity are not usually impaired; this is true of all surgical variations.
Access is gained using a 3 to 4-cm incision in the armpit, the inframammary fold or the areola, which is particularly inconspicuous.

Procedure for breast augmentation with a fat transplant
If a more moderate augmentation of the breast is the goal or when correcting an asymmetry, we can use a fat transplant to increase the volume of the breast. To do this, it's best to take fat cells from regions of the body you consider problem areas anyway, e.g., the upper thighs, the hips or the lower abdomen. These fat cells are specially treated and are then injected into the desired areas of the breast. Breast augmentation with fat transplants can be repeated as often as it takes to achieve the desired result.
Useful information on breast augmentation