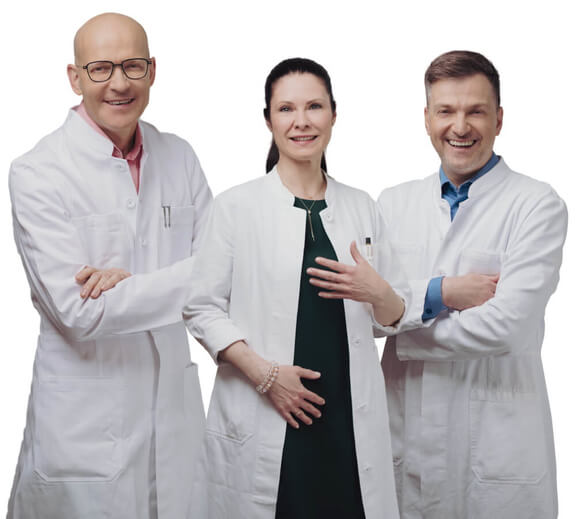 Your Experts on Laser therapy
Dr. med. H. M. Pult
Dr. med. A. Reutemann
Dr. med. S. Zimmermann
At our private clinic, we use a wide variety of methods to rejuvenate skin and remove skin lesions. One effective procedure is laser therapy. Modern laser systems provide a minimally invasive alternative to surgical procedures. Laser therapy is particularly well suited for making the skin on the face, neck and décolleté appear smoother overall.
Ultra-modern laser technology
We use the ultra-modern CO2 (Fraxel) "UltraPulse" laser from Lumenis® at our private clinic. These kinds of laser systems work using heavily concentrated beams of light. Using high-energy pulses that last only milliseconds, the laser is able to treat tiny lesions in a grid pattern in a highly targeted manner. This allows for new skin cells to generate and increases the skin's elasticity. The skin appears much younger and smoother.
A wide range of applications
Laser therapy is not only successful in anti-aging treatments. The CO2 laser can also achieve marked results in treating acne scars as well. In addition, birthmarks, pigmentation spots and warts can also be removed gently and permanently using laser therapy. We can even achieve significant improvement of the skin's appearance for people with large pores using laser treatment.
Visible results
A mild lifting effect can be seen, even shortly after treatment – more noticeable results will appear after a few days once the healing process has had some time to progress. Because collagen is still being produced even months after treatment, the skin only continues to improve. Laser treatment is long-lasting – the results last for several years.
Useful information on laser therapy
15-60 minutes. Local anesthesia, twilight sleep or general anesthesia upon request. Treatment areas: Eye area, cheek area, mouth area.
Special skincare regiment prescribed by your doctor.
We have the latest generation of CO2 laser (fractional laser). It works on the basis that the laser light is not applied as extensively as it once was, but is instead distributed (fractionated) across many small areas of tissue. This allows the skin to heal much more quickly than with conventional laser devices.