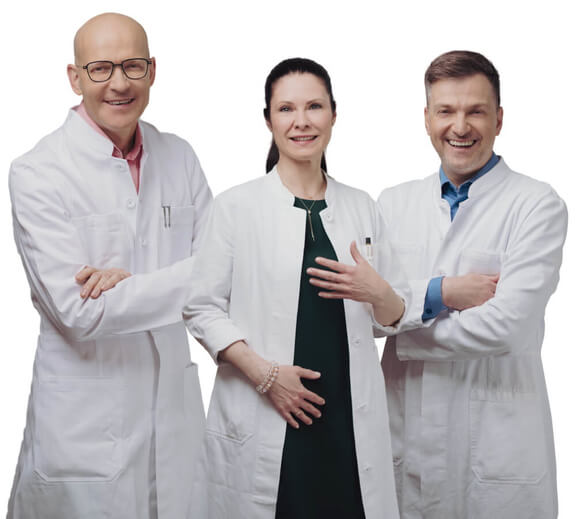 Your Experts on Eyelid surgery
Dr. med. H. M. Pult
Dr. med. A. Reutemann
Dr. med. S. Zimmermann
Natural aging processes usually begin with the face, and are particularly noticeable in the eye area. Stress, sun exposure and nicotine consumption also leave traces. Skin deposits, unwanted fatty deposits and muscle tension can form and are clearly evident as the years go on. These changes manifest themselves as drooping eyelids and bags under our eyes, making our faces look tired and drawn. Strongly drooping eyelids are not only an aesthetic problem – they also often limit our field of vision as well. An eyelid lift will restore your field of vision and gives the face a much younger and fresher look.
Lid reshaping options
Depending on your personal baseline, the results you want can be achieved by reshaping the upper or lower lids. It often makes sense to have both lids done – and this can easily be done at the same time. The subtle scar left when reshaping the upper lid runs along the natural fold of the eyelid. When reshaping the lower lid, the scar runs directly underneath the lash line. We can often even forego making an external incision on the lower lid.
If you suffer from clearly pronounced bags under your eyes, we use a special technique that allows us to form a particularly seamless transition to the cheek region.
Additional treatment for drooping eyebrows
In some cases, drooping eyebrows can lead to a facial expression that appears exhausted and haggard. In our experience, it's best to perform an additional brow lift here to achieve an overall facial appearance with a lively and harmonious eye area. Depending on the individual circumstances, various methods are available for returning the eyebrows to their natural position. This lift can be performed using a single incision to the forehead within the hairline at the temple or, in rare cases, directly above the brow line.
Lid lift procedure
For an upper lid lift, we remove the excessive skin or any fatty tissue using an incision directly on the lid line. The muscles attached to the skin are also adjusted and are ultimately sutured with very fine sutures. If we are lifting the lower lid, we remove the excessive tissue using an incision directly under the lash line. Any small fatty deposits present can be used for contouring and shaping the lower lid area. This gives the eye area an even and youthful look.
A lid lift can be performed with local anesthetic with or without twilight sleep. We can also perform the procedure under general anesthesia with a short inpatient stay upon request.

Emphasize natural beauty
A lid lift is generally suitable for everyone who wants a more energetic and youthful look. We place particular emphasis on achieving a natural look that highlights each patient's individual beauty and personality.
Useful information on eyelid surgery
OP duration: Upper lids 1 hour, lower lids 2 hours. Local anesthesia/twilight sleep or general anesthesia upon request. Outpatient and inpatient (1 night) possible.
Dissolving sutures; suture removal not required.
Able to return to work after 1 week. Able to return to normal social activity after 10 days (14 days for lower lids). Sports after 4 weeks. In order to achieve long-term results, we often recommend performing a cheek lift in support of lower lid reshaping.
Upper lid reshaping at our private clinic is 2200 euros. Lower lid reshaping or under-eye bag correction starts at 2600 euros. A combination lift of both the upper and lower lids is 3300 euros. You can find additional information on pricing and financing options for your operation here: Costs